Check out these Case Studies to Spark inspiration.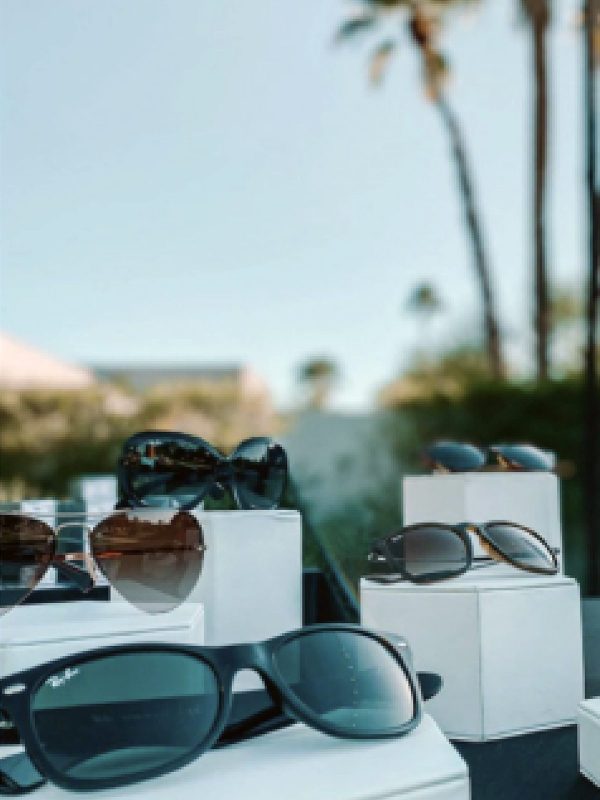 One of our event agency customers was planning an incentive trip for C-Suite executives and their spouses in Antigua. They wanted to wow the guests at check-in with a room drop to welcome them. But with only three weeks until the event, coupled with expensive international  shipping costs and long customs delays, we knew that the likelihood of a large room drop was slim to none. Instead, the Spark team suggested an on-site experiential gift experience that was sure to leave a lasting memory.
The Spark team knew that a group of C-Suite executives needed a gift with a high perceived value and universal appeal. And with the tropical setting of Antigua, we wanted to make sure the gift was useful and could easily be transported back to the United States. We partnered with Ray-Bans to put on an on-site gift experience that fit the customer's budget and timeline – all while providing the "wow" factor. First, we selected a sunglasses package with twelve style options. We worked with a customs broker to ship the sunglasses to Antigua and get them cleared through customs in record time. Our event specialist arrived at the resort the day before the event to meet with the on-site staff, confirm all of the details and review the event. The event was part of the Welcome Reception on the first night, and guests were able to experience a custom sunglasses fitting while walking away with a pair of sunglasses chosen by them.
Not only was the experience a fun and interactive part of the welcome reception, but each guest was able to select a pair of glasses that was perfect for them. The attendees walked away with a useful gift that could be used for the duration of their trip, but the ROI continues each time they wear their new Ray-Bans sunglasses.
"NASHVILLE JAM SESSION" GRAND OPENING AT BNA
Nashville Jam Session approached Spark Branded Solutions with a unique opportunity to help design and create merchandise for the grand opening of their new retail store in the Nashville International Airport (BNA). We were challenged to create a collection of items that would resonate with travelers among all demographics – from bachelorettes to touring musicians – and generate revenue for Nashville Jam Session.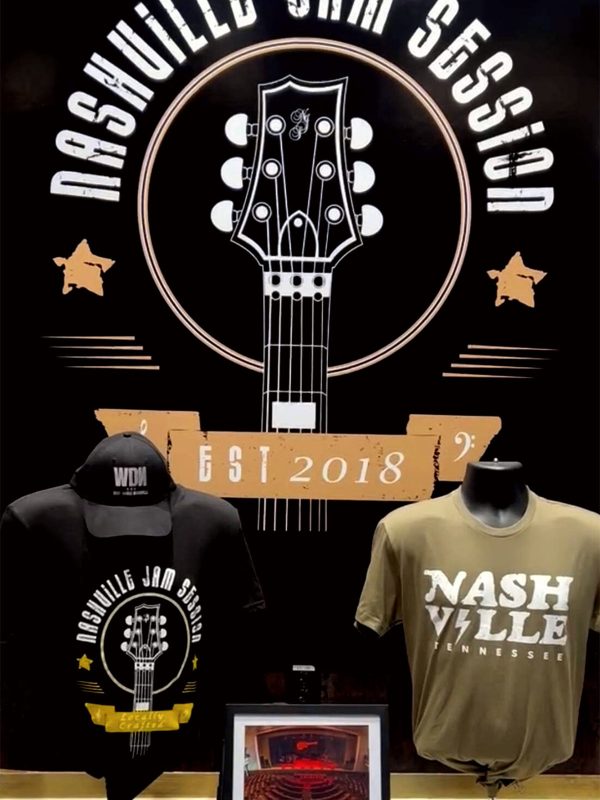 The Spark team spent a day playing "tourist" in Nashville by visiting the top-selling retail stores in the city. As locals, our team knew the importance of creating merchandise that would sell in retail while capturing the true essence of Nashville. We broke the merchandise into categories, and our artists created unique designs for each category. The final merchandise collection included everything from apparel to drinkware to home goods to music merchandise – and everything in-between.
Nashville Jam Session made their debut in the Grand Hall at BNA on January 24, 2023. They closed their grand opening day with the top-grossing sales in the Grand Hall, and their store has become a staple stop in the airport. We continue to work with them on reorders and present new merchandise that they can incorporate into their seasonal refreshes.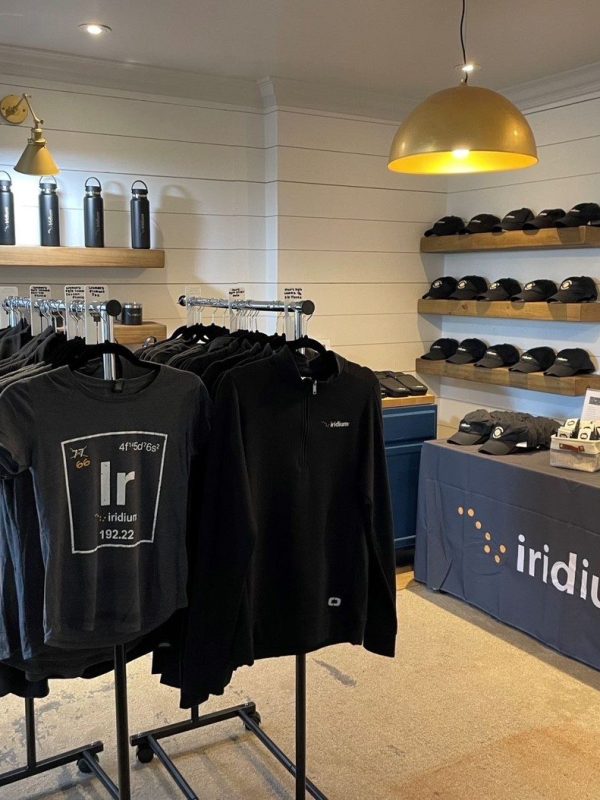 Iridium On-Site Pop-Up Shop
Iridium, a global satellite communications company, wanted a way to engage their international partners during their International Partners Conference (IPC). They also wanted to promote their new online merchandise store, which was set to launch the week after IPC.
Spark Branded Solutions worked with Iridium to build an on-site pop-up shop during IPC. Our team brought in existing inventory from our warehouse while working with the Iridium team to create event-specific merchandise. The shop was open for the duration of the conference, with the Spark team manning the shop from open to close. 
International shoppers were able to participate in a complete retail experience and purchase Iridium gear for themselves and for their teammates while avoiding hefty international shipping fees. Iridium was also able to increase their brand awareness and generate excitement for the launch of their new merchandise store. Our team supported $4,000 of on-site sales, and plans are already underway for next year's IPC shop.
Journeys "Land of Wonder" Sales Meeting & Employee Store
Each year, Spark Branded Solutions collaborates with the Journeys event team to create merchandise for their annual sales meeting. This year's "Land of Wonder" theme incorporated whimsical elements and bright colors, and attendees were encouraged to tap into their curiosity. The Spark team was challenged to produce merchandise that not only fit the theme, but that also appealed to the hundreds of attendees who attended from all over North America.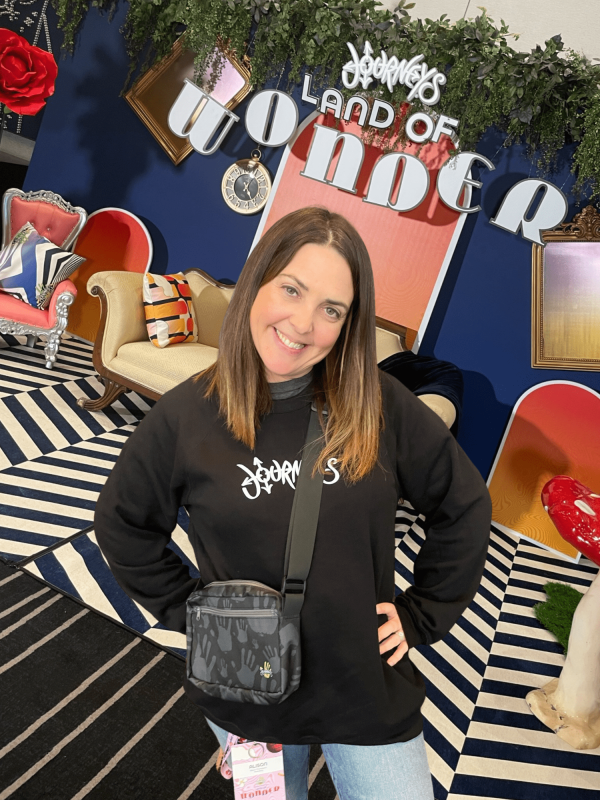 First, we shared new trending products with the event team. Journeys is an on-trend retail company, so we knew that the items needed to be fresh and youthful. Next, we provided custom ideation and overseas sourcing options for the out-of-the-box- items. After months of sampling, we produced a collection of times ranging from apparel to drinkware to outdoor items, all unique to Journeys. 
The first stop for sales meeting attendees was the "swag room," where they collected all of their giveaway items. From there, they moved to the on-site employee store, which had dozens of items for sale that they could purchase for themselves or for their teams. The "swag room" has become a staple for the sales meeting, and the merchandise will be worn and used by Journeys teammates for years to come.